The Japanese terminal tackle company that introduced the Jig Head Wacky technique to U.S. Anglers several years ago has once again demonstrated why it is a leader in new techniques and lure technology. Zappu has INVENTED a product that will add value and increase the use of your existing lures. This tungsten tail weight is named AbareDama in Japanese, which can be directly translated as "wicked ball".
When attached to the treble hook of your favorite lure the weight not only increases casting distance, but it also affects the lure's action, causing it to change the path. Additionally, it alters the wobble cadence and allows the bait to randomly kick out, just like your favorite handmade bait with a one-of-a-kind action.
It is offered in four sizes: 1.1g, 1.5g, 1.9g, and 2.2 grams. Each pack of two tungsten retails for $3.99.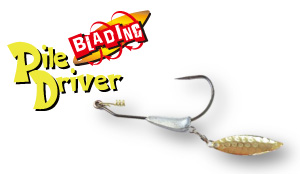 The Zappu Blading Pile Driver is a unique EWG weighted swimbait hook that enhances the presentation of your soft plastics with the help of a bright, dimpled willow blade. Attached using a premium swivel, the blade on the Zappu Blading Pile Driver rotates freely and with a wide flutter thanks to a slight bend at the rear end. To hold your soft plastics firmly in place, the Zappu Blading Pile Driver features a screw-lock bait keeper attached to the eye. Finished with a super-sharp hook point, the Zappu Blading Pile Driver delivers a brilliant presentation that will grab bass' attention when standard techniques fall short. Retail is $6.99 to $7.99.
Board Weight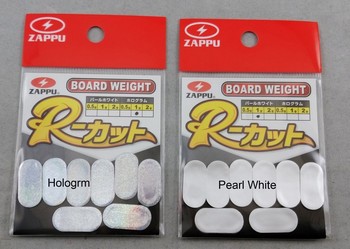 Easily change the rate of fall to any of your lures with these round edged Board Weights. They are available in Pearl White and Hologram and come in a 1 gram and 2 gram weight option. They have an adhesive on one side of the weight. 1 gram/8 per pack, 2gram has 6 per pack
Bone Rattler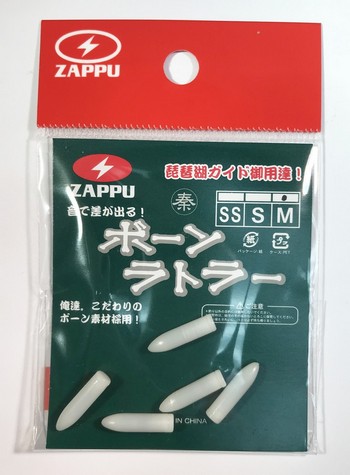 Bone Rattler is rattles made out of the white ABS plastic that is lighter and have a lower pitched sound than other glass rattles and aluminum rattles. Ideal for high pressured waters, dirtier water or where fish are just being finicky. 5 per pack.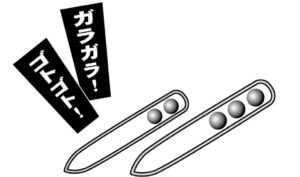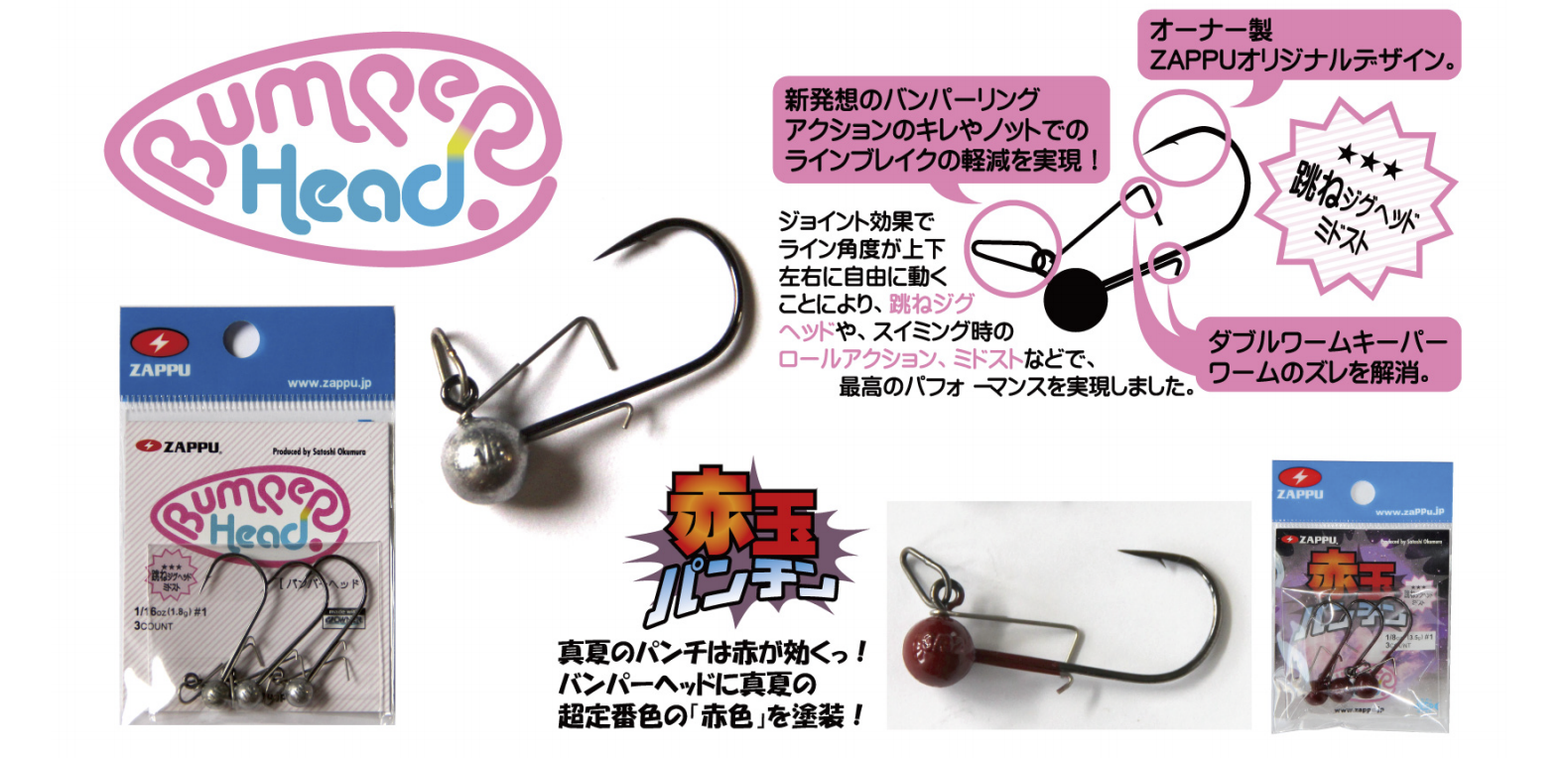 A ball style jig head that has a solid oval ring in the line tie allowing the head to bump off of structure enabling the bait to roll over it without getting hung up. It also creates a looser action as the line is not tied directly to the jighead but is free to rotate up and down and side to side. The Bumper Head also has a double worm keeper system in place to ensure your worm stays rigged properly. Comes 3 per pack and retails for $6.80.
Choverig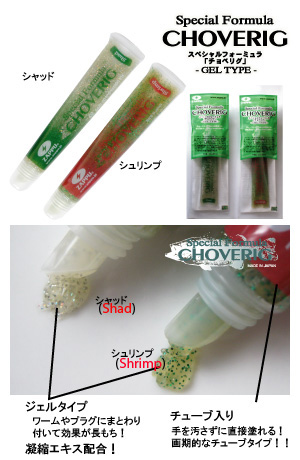 Give your baits an added element of attraction with the long-lasting and effective Choverig Scent. Made from condensed shad and shrimp extract, the Choverig scent is a potent, gel-based attractant that works with all manner of baits, including soft plastics, jigs, and hardbaits. Incredibly easy-to-apply, it comes in a convenient tube that, unlike messy liquids and sprays, won't get all over the place.  Weight: 5/8 oz. Gel Tube. Available in Shad and Shrimp.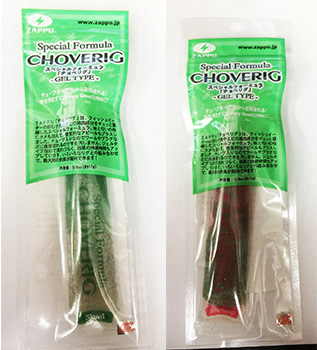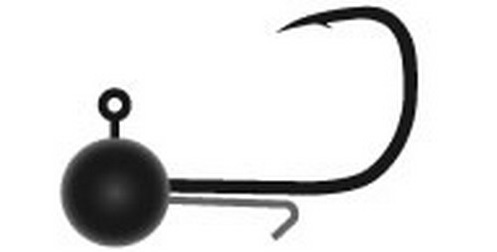 Ideal for difficult fishing conditions, the Zappu Cocho Cocho Head delivers a super-finessy presentation that will get the job done around finicky fish and in cold waters. Made from 97% tungsten, the Zappu  Cocho Cocho Head provides a compact presentation that is smaller than lead counterparts of the same weight. Increasingly sensitive as well, the Zappu Cocho Cocho Head transmits faint changes in composition and the most tepid of bites. Retail cost is $6.50 for a pack of three.

Zappu has added a new twist to the nail sinker rig. Now when you want to add weight to your worm to fish the NEKO RIG, your nail weight has a skirt adding extra color, action & appeal. Available in different weight sizes and colors.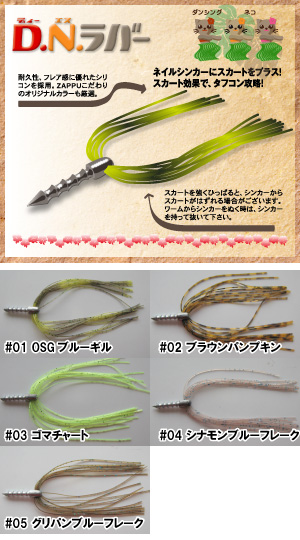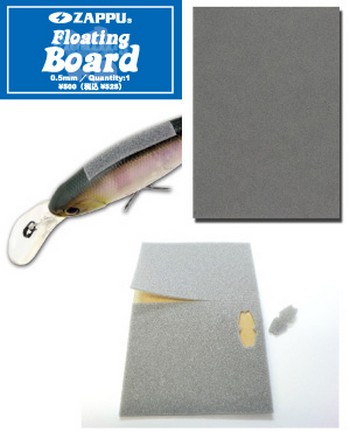 Add to your hard baits and change the buoyancy. 1 sheet per pack for $3.99.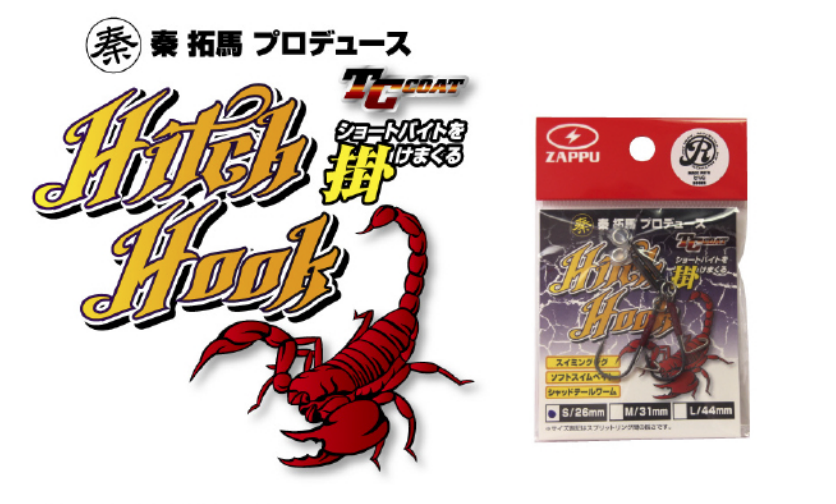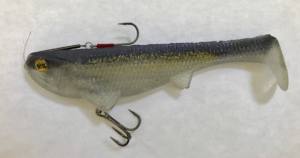 The Zappu Hitch Hook allows you to add a stinger hook to your swimbaits easily and effectively. It features an extra strong, single hook construction that is fixed to a long solid barrel swivel by premium stainless steel split rings.
Available in multiple sizes with a retail price of $6.99.
Feathered Hitch Hook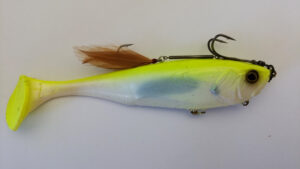 The Feathered Hitch Hooks add a more natural appealing assisted hook to add to your swimbaits to help miss those short bites. The feathers help camouflage the hooks and appear as baitfish fins in the water. Comes 2 per pack for $8.00.

Zappu`s tungsten jighead wacky started it all. The originator of this technique, Zappu perfected the jighead by dropping the tungsten ball down the shank. This allows the wacky rigged worm to roll back and forth as it falls creating an irresistible action. Comes with or without a wire guard.
Click to read more about fishing with the "INCHI WACKY" or Jig Head Wacky.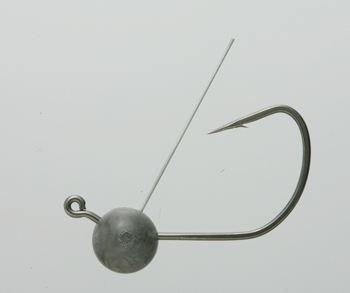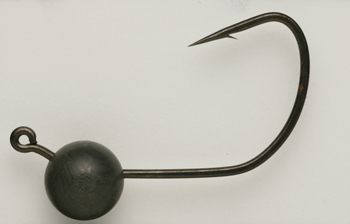 Live Screw Keeper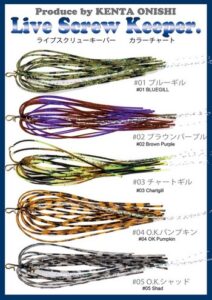 Perfect for swimbaits, creature baits, or worms, the Live Screw Keeper Skirt Attachment gives your bait a unique presentation and will help you stand out among the competition. Available in multiple colors that will accent any soft plastic, the Zappu Live Screw Keeper Skirt Attachment is the perfect way to enhance your bait's presentation.
The Live Screw Keeper allows you to add a skirt quickly and easily directly to a worm hook with its clip-on screw keeper. The Skirt features silicon and highlights of tinsel throughout.

Spybaiting is a technique that was introduced from Japan several years ago. There are numerous offerings from hardbait manufacturers, but the guys at Zappu took the technique and have applied it to soft baits. They have termed the technique, "Soft Spybaiting" and it flat out catches the fish.
The Pera R is a propellar that screws into the back of your soft plastic that adds flash and disturbance.



The Sasuteki Rig has been out for over 6 years in Japan and is a great technique for Punching and light punching. The tungsten weight is inserted into your flipping bait and then the hook runs through the fixed metal ring. This allows for the weight to be the lead object of your lure and makes for your bait to penetrate through the grass, lily pads or other structure easier.
Offered in 9 weight sizes.

The SasuSkirt is a hand-tied silicon skirt that connects to rubber pieces. It sets easily over your worm hooks adding volume to your presentation or slowing down the rate of fall. Two per pack for $8.50.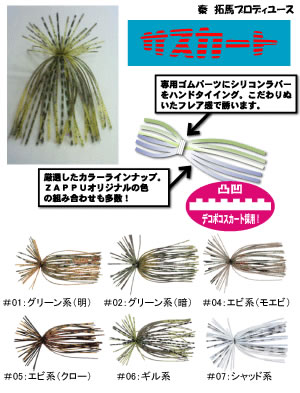 Expanding the possibilities of the popular Neko rig, the Zappu Screw Cat Neko Weight Attachment allow anglers to use different weight sizes than what is available in traditional nail weights. Made to work in conjunction with almost any bullet style weight, the Zappu Screw Cat Neko Weight Attachment seamlessly marries a bullet weight to the head of favorite soft plastic thanks to its innovative screw lock design. This allows anglers to use any size weight on their Neko rig to achieve a faster or slower rate of fall, change the action, and have the ability to penetrate thicker cover. When standard nail weights are insufficient, the Zappu Screw Cat Neko Weight Attachment is the perfect solution to achieve the desired presentation.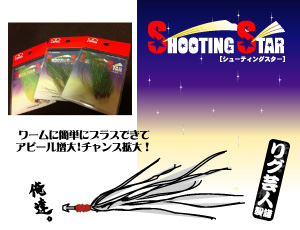 Add these teasers to your worms for extra tantalizing appeal. They're sure to add that extra something to get the fish to strike.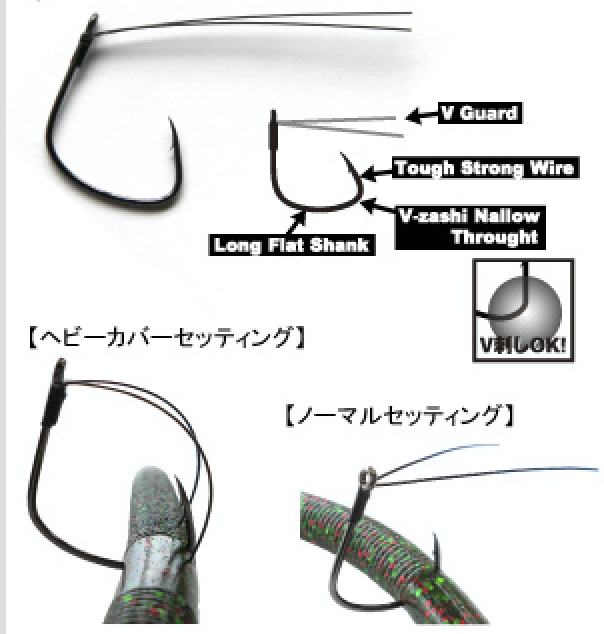 The Zappu Super Captain Weedless Hook features a longer flat shank made out of a stronger gauge wire. Available in the ideal and much-needed sizes necessary for wacky rigging your larger size Senko Style baits, and fishing in cover, the Zappu Super Captain Weedless Hook also has the upward V-angle hook bend that the Zappu Jighead wacky heads feature – for the surest hook sets in the business.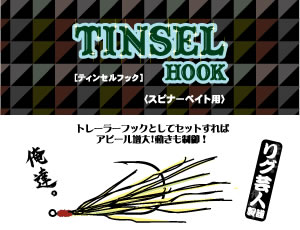 The Zappu Tinsel Trailer Hook is a trailer and hook all in one. Perfect for adding to spinnerbaits, buzzbaits, swim jigs, etc., they provide addition lifelike movement and fish attraction, while also giving you another chance to hook short-biting fish. Three per pack for $6.50.
Mega Tinsel Hook

The larger size of the current Tinsel hooks from Zappu. Perfect for adding to larger size spinnerbaits and buzzbaits for a trailer hook. Comes two per pack for $6.80.

Zappu`s Tungsten sinker has ridges that keeps the nail in penetrated in the worm. Retail cost is $4.00.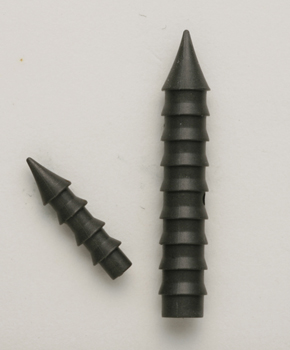 These blades are easily attached to your swim jig, spinnerbait, buzzbait or any type of open hook jig allowing for extra flash and vibration. Offered in 3 bladed colors.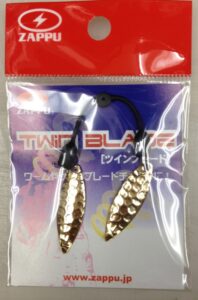 Zappu of Japan has done it again with the Zappu Twin Blades. A perfect addition for your favorite swim jigs, spinnerbaits, jigs, chatterbaits or anything other baits you can think of, they offer a new look, and additional flash for a whole new presentation. The two, counter-rotating, willow-leaf blades with high-quality swivels keep spinning on the fall and the retrieve, and a strong piece of rubber with a hook holder at the center provides a secure attachment. Available in gold, gunmetal, and silver, add a little flash to your baits with the Zappu Twin Blades.