Aaron Likens
Wolcottville,IN.
www.aaronlikensfishing.com
aaron@aaronlikensfishing.com_

Tournaments: Strike Zone, Bang It, Federation Tournaments, and Michigan BFLSponsors: Denali Rods, Optimum Baits, Reins, ima Japan, Boat Bling, Power-Pole, and Solar Bat I've been tournament fishing since 1998. Last season my confidence lures would have to be the TABU open water jig, Crashing thunder, Double Diamonds on an A-rig. I always have a rod with a Deps Basirsky Hardbelly frog and an IMA Skimmer.On certain lakes up here the B.L.T is deadly.Spring and fall I love to throw the Rock N Vibe.I'm looking forward to 2013 to try these baits on those St Clair smallies in the BFL's.My favorite lakes are Lake St. Clair, Hamilton, Webster, and Dukes Bridge.
Pike Fishing in Colorado can be tough at times but when you have a swimbait you can trust  (7″ B.L.T) you can always count on the BIG boys coming out. I currently fish Harvey Gap and Rifle Gap on the western slope of Colorado and will be in search of the State record Pike!
Duane Bethke
Pinckney, MI https://duanebethkefishing.blogspot.com
Fishes The FLW's BFL circuit and NBAA with a focus on Great Lakes Smallmouthfishing on Lake St. Clair and Lake Erie. He has been throwing Optimum Baits for over 5 Years. Favorite Lures – "Pre-spawn it's got to be a 4" Suspending Swimbait in Motor Oil, and from then on he always has a BLT Swimbait in his arsenal "I have a lot of confidence in the BLT's, the new #558 Goby color in a 3 1/2″ size is a spitting image of the round goby and the Smallie's up here absolulutely love em".
Lakeside, CA
basstickler@cox.net
Has been field testing various Optimum Baits and deps products for 10 years. Is on the water 2-3 days per week. Favorite lakes to fish are San Vicente and Diamond Valley Reservoir. He likes to fish his furbits and deps slither Ks in open water…
Doug Cavin
Fairborn, OH
https://dougcavin.com/
Fishes as a Co-Angler in the FLW Tour and FLW Series. Currently is
sponsored and works with; Optimum Baits, Vertical Lures, Wireless
Lanyard, Vicious Fishing Line, Save Phace, Reel Grip, Secret
Weapon Lures, TC Custom Baits, JKruz Eyewear

David Conway
San Diego, CA
conwaycustomrods@cox.net
David is well known for throwing big baits all day long going after that one dream fish.

Lee Cox
Hagerstown, MD
U.S.C.G licensed Captain and also fishes the BASS Open Southern and Central Opens.

Jim Davis
Plumas Lake, CA
https://www.jimdavisfishing.com/
You know that's a hawg that Big Jim is holding just on the sheer fact that Jim is 6'4″ and 300 lbs. Jim excels on the California Delta, Clear Lake and Shasta. His favorite baits from Optimum are the AC Minnow, Furbit, and the Deps Basirisky.
Kurt Dove
Kurt has been fishing professionally for 10 years and fished 3 years on the BASS Elite trail. He is now relocated to Del Rio, Texas
and lives 2 minutes from beautiful Lake Amistad. Kurt is a USCG licensed guide and knows how to share a great day on the water.
He says, "you will always find a 5″ Baby Line Thru tied on one of my rods and when fishing deeper water a 6″ Titan"
https://www.amistadbassguide.com
www.kurtdove.com

Mike Eutsler
Michael.eutsler@sbcglobal.net
Springfield, MO
Mike participates in over 30 Bass tournaments on an annual basis. Heartland, BFL, Bassmaster weekend series in AR, MO, OK. He worked with the Missouri Department of Conservation and now is owner of Eutsler Outdoors, Inc. Also is the Editor of Heartland Trails magazine and does seminars at the Bass Pro Shops in MO.Sponsors: Optimum Bait Co., ima Japan, Nitro Boats State Team, Bass Pro Shops, Mercury Marine, Motor Guide, Mustad, Tru-Tungsten.

Mike Gardner
Fullerton, CA
https://www.mikegardnersfishing.com
Mike Gardner was born and raised on the Southern California coast. He's been a successful deckhand, tournament professional, fishing periodical publisher, and a U.S.C.G licensed Guide. He currently guides in Newport Bay, San Diego Bay, and Long Beach Harbor for spotted sand bass, calicos and anything that will bite.

Quinn Garvik
New Castle, Colorado"I like to Fish any body of water that holds big Northern Pike. Living in Colorado provides us with plenty of opportunity to land that big fish. I love to use the large Baby Line Thru swimbait in almost any color."  –Quinn Garvik
Mike Helton
Home town: Jeffersonville, IN
Tournaments: FLW Tour and FLW Everstarts
Sponsors: Optimum, IMA, Zappu, Denali Rods, Independent tackle, The Rod Glove, Secret Lures, and Basseast.com
Mike has been using Optimum, IMA and Zappu for a couple years now and says his favorite baits for using on Tour are the Double Diamond Swimmer's, The Flit, and the INCHI Wacky. He said, Double Diamonds are so versatile they can be rigged in so many different ways and there is a color for every condition that you encounter. " Being the sales manager for Denali rods I get to test and use a lot of rods. When I need to catch some fish I know I can tie on one of these great baits and really put them to the test!"

Captain Nathan Chandler
Toads Only Guide Service
www.toadsonly.com
Nathan guides out of Tracy, California on the California Delta and the Motherload Lakes of the Northern California foothills. He has been fishing the waters of the Delta and Lakes since the 80's and has enjoyed the success that Optimum line of baits and the IMA series of hard baits bring to his arsenal. "These baits flat out produce fish making my job as a guide more productive day in and day out"

Art Hill
Temecula, CA
https://www.dvguideservice.com/
Art has been fishing for 40 years. A Navy veteran, he has had over 500 days of fishing on Diamond Valley Lake since it opened in late 2003. He's fished San Diego county lakes and Lake Perris for 25 and 15 years, respectively.

Andy Holst Wauwatosa, WI
Andy fishes the BFL Great Lakes Division as a non-boater as well as Anglers Choice. He has been competing for 4 years and using Optimum Baits, TABU Tackle, Deps and Ima products for two seasons. His favorite baits are Tabu Open Water Series Jig, Ima Roumba, Deps Hard belly Basirisky, and of course the BLT in shad patterns. His favorite body of water is the Upper Mississippi River specifically pools 4 and 5.

Adam Koda
Fontana, CA
Adam has been fishing with Optimum and AA Worms for over 15 years. A very talented fishermen he has spent several years working on the long range boats out of San Diego and now he fishes competively in the Southern California Bass Circuits.

Rich Lindgren
Lakeville, MN
www.richlindgren.com
https://bassinblog.richlindgren.com
https://richlindgren.proboards46.com
https://basstournament.blogspot.com

Fishes in Bassmasters Weekend Series ?Northstar Division, MN State Bass Federation Tournaments. Sponsored by Optimum Baits, Tru-Tungsten,Secret Weapon Lures, Stay'nCharge, Stick 'em Lures.

John Lytle
Pinckney, MI
John fishes Walmart BFL's, NBAA and many other local circuits primarly focusing on great lakes smallmouth. His favorite bait is the 3″ BLT in the new Goby color followed by the IMA flit in brown flash.

David Mills
Dallas, TX
David has been with Optimum for over 7 years and his favorite bait is still the 3″ Micro Optimum. He often couples it with the Crashing Thunder and slow rolls it off the bottom. David enjoys doing seminars at the Texas BPS and Cabelas.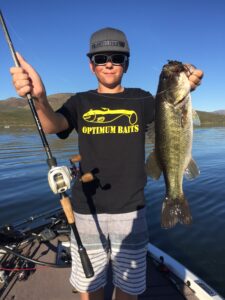 Jackson Paluczak
El Cajon, CA
Jackson@actionjacksonfishing.com
www.actionjacksonfishing.com
https://www.facebook.com/actionjacksonfishing/
Instagram: @actionjacksonfishing
YouTube: https://www.youtube.com/channel/UCQFzaF99BRebB1BVT9c3KwQ
At thirteen years old, "Action" Jackson Paluczak is the youngest member of the Optimum Baits Pro Team. Jackson started fishing at the age of four and fishing competitively in adult tournaments at the age of six and has been fishing for Optimum since 2014. He has multiple wins and many top five finishes in his young career and has earned two Jr. California Bass Federation Angler of the Year Titles. Jackson's favorite baits are the ima Flit, Optimum Furbit, and the reins Ax Claw, but he is also known for throwing the big baits-Deps 250, Madness Balam 300 and Butch Brown Thumper Tail.

Randy Pringle
Salida, CA
https://www.thefishinginstructor.com
email: fishinginstructor@aol.com 
Tel:209-543-6260
Randy is a now a full time fishing guide on the California Delta and also performs over 40 seminars and guest appearances each year. He has been fishing with Optimum for 1 year and really enjoys using the Furbit Series, Titan Swimbait and the AC Minnow series.

Vern Price
Las Vegas, Nevada
https://www.basstimeguideservice.com/
Currently Guides on Lake Mead for Striper and Largemouth Bass. Vern is the tournament director for the U.S. Angler's Choice Colorado River Trail. Vern has been fishing on Optimum's team for 6 years and his favorite bait is the Optimum Heavy Cover Attractor. He can be found giving seminars at the Las Vegas Bass Pro Shops.

Richard Ragland
Carson, California
Big Rich is known for his Calico bass skills and loves the Double Diamond in the kelp. He also enjoys targeting BIG largemouth bass and goes down to Lake El Salto to catch some monsters. His favorite Optimum Baits are the 5″ Baby Line Thru and the 8″ Curly Tail Doggs.

Todd Reed
Tournament organizer, outdoor writer, guide, and tournament angler in the BASS federation events, BFL and Bass World Sports (the biggest buddy circuit in the Midwest). Optimum FURBIT series frogs are his favorite bait.

Kazuya "Satan" Shimada
Osaka, Japan
Much of Optimum Baits success in Japan is due in large part because of "Satan Shimada." Known throughout Japan as being one of the best "MONSTER BASS HUNTERS", Shimada continues to catch "60" Maru bass on the Optimum Baits. He had the Japanese National record for 7 years at 19.15lb caught on an Optimum Double Spin. He now enjoys using the BLT and Top of the Line. He also likes the 3DD in the spring and fall.
https://madness-satan.jugem.jp/

Bill Smith Jr
Summerset, KY
https://www.backwatersonline.com/
Bill Smith is currently fishing the Bassmaster Elite Series where he finished in second place during the last tournament on Lake Toho. He is also the backbone behind one of the nations finest tackle outlets, Backwaters Online.

Mark "Chief" Torres
Camarillo, CA
Mark has been with Optimum for 4 years and really enjoys using the bigger sized swimbaits. Mark was the inventor of the Ambitious Buzz and continues to come up with new lure ideas. He had an excellent 2007 year and will fish in the Federation Championship in November at Lake Toho.

Ronnie Watts
Florence, South Carolina
Ronnie has been fishing Optimum's products for 1 year and enjoys the finesse worms and Heavy Cover Series. He has been fishing competitively for 10 years and his sponsors include: Optimum Baits, Ranger Boats, Mercury Marine, Marshal's Marine.

Todd Woods
Murrieta, CA
Todd fishes the FLW Western Series. Has been fishing with Optimum since 2005.

Hubert "Kewly" Zimara
KFGS-Fishing.com
Hometown: Long Beach, CA
Sponsors/Affiliates: Optimum Baits, Fishermans Hardware LB/Sav-On Tackle, GWorks, World Industries, Yokohama Tires, Rapala, Daiwa
Primary Lakes: Diamond Valley Lake, Irvine Lake, Castaic, Crowley, Convict…Sierras (Stripers, Trout, Bass )
Hubert aka "Kewly" has been fishing for over 25 years. His home lake is Irvine Lake where he fished since his early teens until now for Trout, Wipers, Catfish, LMB. As of early 2004 he has focused on Diamond Valley Lake (DVL) for its prized fishery…and most importantly, its prized Stripers. Hubert runs/guides Kewlys Fishing Guide Services out of Southern California ( www.KFGS-Fishing.com ). One of his main focus, as a guide is tutorials, and getting the people on prized Stripers using Optimum Baits/Lures. It's no wonder "kewly" uses Optimum Baits to target and land Big Stripers at DVL and other So. Cal Lakes.